New Media/Education
Bachelor of Fine Arts - New Media/Bachelor of Education
New Combined Degrees
A. Craig Loewen, PhD

Professor & Dean
Faculty of Education
University of Lethbridge

"The CTS Program is an absolutely essential program in today's schools —

the range of curricula addressed enhances schools' abilities to meet the needs

and varied learning styles of their students, provide tangible and applied learning

opportunities, and build real connections with people and businesses in the

surrounding community."

Ed Jurkowski, PhD

Professor & Dean
Faculty of Fine Arts
University of Lethbridge

"We are very excited about this new curricular partnership with the Faculty of

Education. This new option creates another career pathway for Fine Arts students

with an interest in new media as well as fill an important need in the K – 12

system for 21st century learners."

 
Expanded Teaching Opportunities
Develop as a new media creator and educator, then apply your critical, creative, and technical skills in an evolving educational landscape.
Earn Two Degrees
The combined degrees take five years to complete and you graduate with two degrees. Your BFA-New Media degree covers the subject you want to teach, while at the heart of the Education degree (BEd) are three professional semesters, which provide practical experience through supervised placements in schools.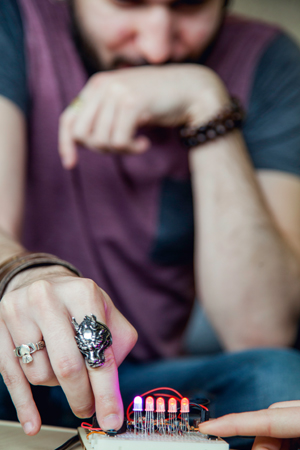 New Media
You explore a diversity of new media areas including graphic design, web design and development, interaction design, 3D modelling and animation, narrative screenwriting, digital video production, visual effects, gaming, as well as historical and contemporary new media theory.
The breadth of the program prepares you to become a versatile new media professional and an adaptable, innovative instructor, able to apply your knowledge in a variety of educational contexts.
"This combined degrees program brings together the development of creative new media professionals with the world-class teaching preparation that graduates receive here at the University of Lethbridge. This is an incredibly versatile program of study, and is especially valuable in an evolving educational landscape where new media enriches so many of the experiences in student learning."
- Deric Olsen, NM Chair
NEW STUDENTS: New students start the BFA – New Media/BEd combined degrees program in the Faculty of Fine Arts and apply to the Faculty of Education after meeting Education's admission requirements.
CURRENT STUDENTS: If you are a current BFA – New Media major interested in the combined degrees option, please contact Fine Arts Student Advising for details.
ALUMNI: Graduates with a BFA – New Media can now apply to the Bachelor of Education program as a second degree.
Education Admission Requirements
Get info about the Faculty of Education admission requirements
Application Info
Find more information on the Faculty of Fine Arts requirements for admissions:
Program Planning Guides
The program planning guides outline the required courses for your specific degree and major, and provide a sample sequence of courses to help you plan. Contact Fine Arts or Education Advising for program planning guides for the new
Bachelor of Fine Arts - New Media/Bachelor of Education
FAQs
Find Answers to your questions
Student Success Stories
For more info contact both the Advising Offices of Faculties of Fine Arts and Education.
Contact Us
Faculty of Fine Arts
finearts.admissions@uleth.ca
403-329-2691
Faculty of Education
edu.sps@uleth.ca
403-329-2254
ulethbridge.ca/education