Art History/Museum Studies
Bachelor of Fine Arts - Art (Art History/Museum Studies)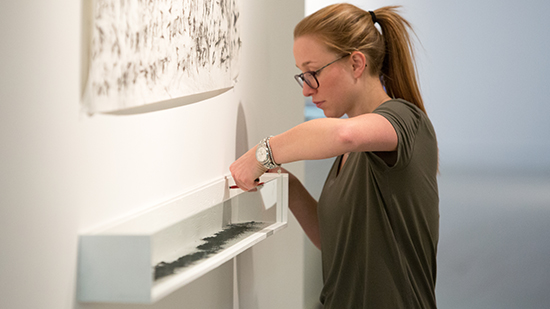 Be part of an innovative program that combines critical studies in art history and theory with extensive hands-on museum and gallery experience.
Focusing on 19th through 21st centuries European, North American, and First Nations Art History, you gain a deeper knowledge of contemporary art practices. You work with the University's art collection of more than 14,000 objects, learning to manage and conserve artwork, and curate exhibitions.
Our internship program gives you an in-depth sense of the range of work and career possibilities in the museum field, while developing your experience beyond the art gallery and classroom. You have the opportunity to focus on areas such as exhibitions, collections, and public programming.
Facilities & Spaces
Metal shop with foundry, forge and plasma cutter

Individual studios for senior students

Modern woodshop, ceramic and plaster studios

Bronze and aluminum foundry

Digital fabrication lab includes 4-axis CNC router and 3D printer

Printmaking studios with Boss Laser Engraver

Digital media studio with 3D and large format printer

Photography & camera obscura studio with full wet darkroom

Painting and drawing studios

Exhibition, installation and experimental spaces

 

"I am always excited and proud to talk about my experience in the Art History and Museum Studies program. My studies at the U of L have reignited my passion for learning. With opportunities for internships and independent studies, I feel confident I am receiving a well-rounded education. From my experience, professors are extremely knowledgeable, approachable, and learning-oriented. This environment allows me to feel confident about taking risks. There are also opportunities for recognition within the program."

- Amy Parks

 
Post-Diploma
The Post-Diploma Bachelor of Fine Arts (Art) offers a perfect opportunity to immerse yourself in Art. Students with approved 2-year diplomas complete a minimum of 20 courses, including a minimum of 12 in Art and/or Art History/Museum Studies. Students with approved 3-year diplomas complete a minimum of 15 courses including a minimum of 8 in Art and/or Art History Museum Studies. The diploma is recognized as a block of transfer and each program is individually tailored based on the content of the diploma
For more information contact Fine Arts Advising.
Application Info
Find more information on the Faculty of Fine Arts requirements for admissions:
Apply to uLethbridge
Program Planning Guides
The program planning guides outline the required courses foryour specific degree and major, and provide a sample sequence of courses to help you plan.
Post-Diploma Bachelor of Fine Arts - Art (Two-year)
Post-Diploma Bachelor of Fine Arts - Art (Three-year)
FAQs
Find Answers to your questions
Student Success Stories