---
We passed many small lakes, and at last reached a small stream flowing to the east,
and were again on the Saskatchewan slope of the mountains.


---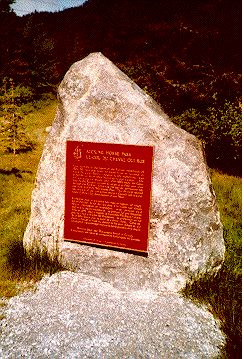 ---
Today, a plaque atop the Kicking Horse Pass reads:

"First recorded in the report of the Palliser expedition of 1857-60, this pass takes its name from an incident in which Dr. James Hector, surgeon for the expedition was kicked by a horse while exploring this vicinity. The pass was virtually unused until after 1881 when the Canadian Pacific Railway decided to adopt it as their new route through the Rockies, foregoing the earlier preference for the more northerly Yellowhead Pass. This decision altered the location of the line across western Canada and dramatically affected the development of the West."

---
How do I participate in the student Sketchbook Project?


Background Information on James Hector
Other Historic Journals by Explorers of the West


Back to Our Heritage Home Page