Heritage House B&B
Lethbridge ~ Alberta ~ Canada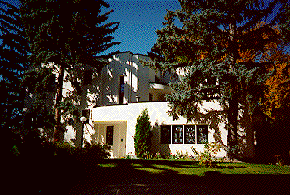 Built in 1937, Heritage House is one of the finest examples of International - Streamline / Art Moderne / Art Deco style architecture in Alberta and is a designated provincial historic site. Still in the original family, Joan and Bruce Haig have operated Heritage House as a Bed & Breakfast for the past 26 years entertaining hundreds of visitors from around the world. Lavish landscaping gives the visitor the feeling of country-living within walking distance of the heart of the city.
Take a walk through the garden.
in Summer

or Winter

Now come inside

The architecture was part of a reaction to the ornateness of the Victorian Era and originated in Europe along with modern music and art following World War I.
In the 1930's many leading architects fled the Nazi regime and became established in the finest architectural schools in North America. The style spread across the continent until the end of World War II.
Check out our UNSOLICITED Reviews & a Map
For more background visit Canada's Historic Places
---
After 26 years we have decided to close.
We have so much enjoyed the many people we have met over the years and wish you well.
Joan & Bruce Haig
---
Address:
Heritage House Bed & Breakfast
1115 - 8 Ave. S.
Lethbridge, Alberta T1J1P7  Canada

E-mail: hrc@ourheritage.net
Phone: 403-328-3824
---
---