Welcome to On-Campus Housing at the U of L!
Thank you for choosing to live with us. Our dynamic team warmly welcomes you! We aim to provide a safe, clean, convenient, and supportive home away from home. We are eager to offer on-campus housing programs and facilities designed to help you make meaningful connections with others while succeeding in your academic pursuits. Did you know that on-campus housing students are more likely to graduate? It's true!
Our Residence Assistants are trained and prepared to support you this year. The campus life housing team has engaging, fun, and memorable programming planned for you. Get to know your RAs; they are here to guide and support you, so feel free to ask them anything. In return, please familiarize yourself with the guidelines in this handbook.
Role of Our Team
At ULethbridge, we view on-campus housing as much more than accommodations. Our team is here to assist in making your stay with us enjoyable and successful. On-Campus Housing alumni tell us that one of the best parts of university was the lifelong friendships they made while living on campus; just ask some of our Housing staff or myself! Our Residence Assistants and the Organization of Residence Students (ORS) make the residence life experience unforgettable.
Community Living
We strive to create a positive experience for everyone. By living with us, you are choosing to be an active member of an inclusive community. You have the opportunity to help shape a great experience for yourself and your fellow on-campus housing students. We focus on the health and well-being of the entire community to support on-campus housing students in their personal and academic pursuits.
Take Advantage of Activities & Opportunities
University is not about who you were or where you're from, but who you are and who you're becoming. This is your opportunity to expand your horizons - meet new people, try something new, immerse yourself in campus life, and take advantage of the activities and resources available. We promote developing a welcoming, caring, and inclusive community that fosters unique learning opportunities and experiences far beyond classes and on-campus housing.
Suggestions or Comments
I encourage you to step out of your comfort zone at least once while you are here, ask questions when you aren't sure about something, and continue to be authentically yourself. On-campus housing is a dynamic place that is home to many students from all walks of life with the goal of completing an undergraduate degree in a field of their passion. Make this your year to connect with others who share like-minded views and interests, challenge yourself to see things from others' perspectives, and create more meaningful connections that last a lifetime.
I wish you well and much success in the upcoming year.
Sincerely,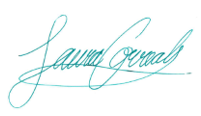 Laura Correal
Associate Director, Housing Services