For any type of large event or any event that includes alcohol services, please contact Risk & Safety Services well in advance of the event to ensure legal & policy compliance.
Events over $5,000:
Events requiring services with a total combined value over $5,000 shall be directed through Materials Management to seek quotes from all prospective vendors, in compliance with University Policy.
Beyond Service Zone:
Exceptions may be considered by Risk & Safety Services for events held beyond the service zone of all approved caterers. In such extraordinary cases, all alternative caterers must be approved by Risk & Safety Services at least 30 working days in advance of the event.
For Events Held Both On or Off Campus:
By University policy, University of Lethbridge sponsored catering both on and off campus may only be purchased from one of the approved caterers below. These caterers have been vetted for safety compliance, carry stipulated liability coverage, and provide commission income to the University.
Approved Catering Partners for 2020-2021
Four Approved Catering Partners
We are pleased to offer four (4) approved catering partners available to service University events in 2020-2021. 
These caterers are authorized to service events on the Lethbridge campus, the Penny Building, and in the Lethbridge Community.
Pre-Qualified for Quality & Safety
These pre-qualified & fully licensed catering partners are approved to provide both food and alcohol service and have been vetted for
service quality, food safety, and adherence to University Risk & Safety polices and procedures, and all municipal, provincial and federal requirements.
Purchase Orders
Country Kitchens, LA Chefs and Prime will require a Purchase Order number at time of order.
Fresh Fork - operated by Chartwells (our new University Food Service provider)
If you have an account through Catertrax, place your order on-line via Catertrax.
If you do not have an account set up
You are welcome to contact catering@uleth.ca or call 403-332-4475 with any questions or to place an order.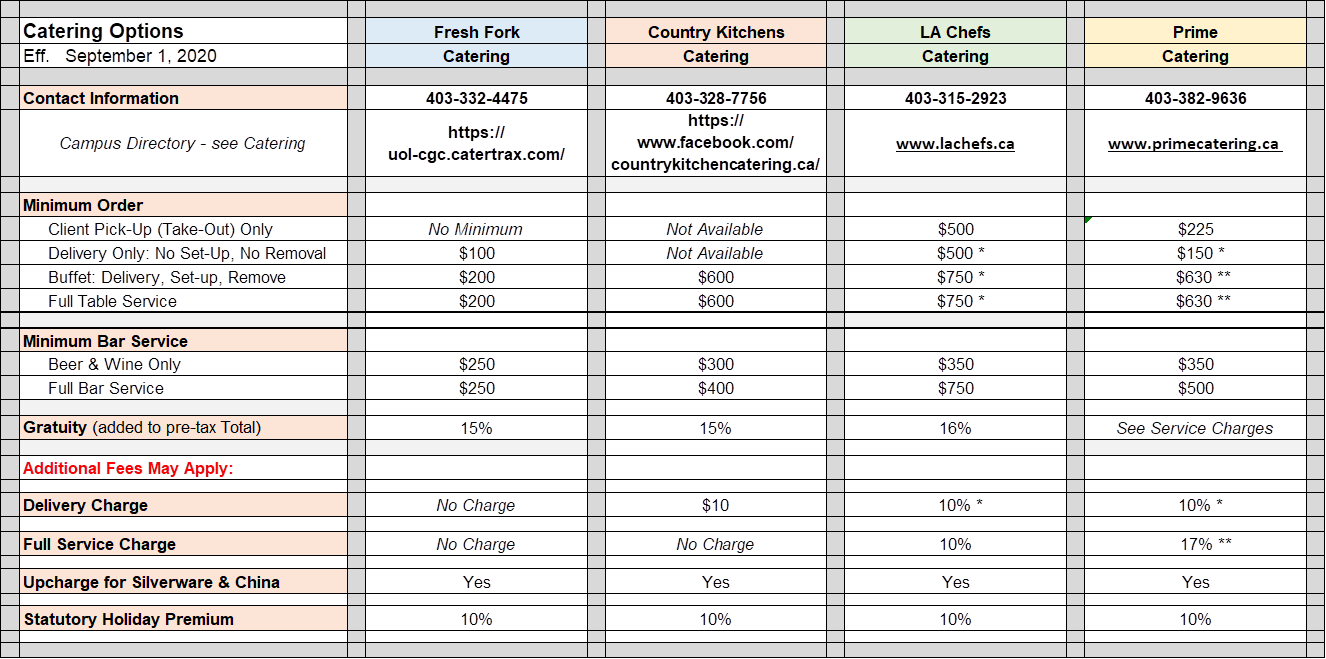 For further information on University of Lethbridge catering, please contact James Booth at 403-329-2239