The goal of the Food for Thought initiative is to decrease food insecurity on campus by supporting projects put forward by the University of Lethbridge community related to sustainable accessibility of healthy food for the campus community.
Did you know...
Food insecurity on our campus is an urgent situation, knowing that 1 in 5 students on our campus face food scarcity. Currently, 19.2% of students (around 2,000 students) occasionally run out of food and cannot afford to buy more.  Another 7.5% experience food insecurity more often or all the time.
Hungry? Short on funds? Need help with a meal? Our food pantry shelves are stocked to lighten your load so you can stay nourished. Visit 1 of 6 locations: Anderson Hall (by Counselling Services), Markin Hall (main floor by staircase), Student Union (1st floor by ULSU), Library (24-hr study space), UHall (4th floor by elevator), and Science Commons (6th floor by elevator).
Stay tuned for an upcoming announcement on an exciting initiative that will make it easier for students to access fresh local produce!
Contact the ULSU for additional supports related to food access: email food.bank@uleth.ca  or call 403-329-2222
Do you have questions or want to get involved?
We want to hear your idea to support Food for Thought in the areas of:
Food Policy
Farmer's Market
Food Insecurity
Food Waste
ULSU Foodbank
Healthy Food/Nutrition Accessibility
Access to Healthy Foods Off-Campus
Workshops/Educational Seminars
Food for Thought Fund Award
Through the Food for Thought Fund Award, you can receive up to $2,500 to help support a project within the Food for Thought program, to help combat food insecurity on campus. Your project must fall under one of the following themes above.
Founded by a group of friends at University of California Los Angeles in 2010, Swipe Out Hunger is a leading non-profit addressing hunger among college students. They implement and support common sense and innovative solutions to campus hunger, including our flagship program, "The Swipe Drive", where students with extra dining hall meal swipes can donate them to their peers. 
The University of Lethbridge is the first Canadian University to partner with Swipe Out Hunger. We are excited to work with their team to help alleviate food insecurity on campus.  
Preparation Time: 7 minutes
Cook Time: 20-25 minutes
Servings: 1-2
Cost: about $7-$10 for whole recipe
vegetarian and vegan diet
high protein
exam week recipes
cooking for 1
1 cup quinoa
1 cup water
halfcup spinach
1 avocado
half large cucumber
extra firm tofu
cherry tomatoes
feta cheese
oliveoil
vinager
Add quinoa and water to a pot and bring to a boil, let simmer for 15 minutes. While quinoa is cooking, prepare tofu by heating pan and cutting tofu into cubes. Add a tablespoon of olive oil and tofu cubes to pan and cook until browned. Prepare the rest of the bowl by chopping up the cucumbers, tomatoes, avocado and feta cheese into cubes, leaving to the side. Once quinoa has cooked and simmered for 15 or until all the water is gone, put quinoa into bowl, add the previously chopped ingredients, spinach and tofu. In a small bowl, add 4 tablespoons of olive oil, 2 tablespoons of vinegar and salt, mix and then add to bowl. Stir up bowl then enjoy.
Food Category: Main Dish  
Prep. Time: 30 min 
Cook time: 20 min 
Servings: 3-4 
Cost: $20-30 (depending on how many ingredients you already have) 
General Description: High Protein, Cooking for 1-2, Chinese Sir-fry/International  
| | |
| --- | --- |
| 1  | Pound sirloin steak, thinly sliced into strips  |
| 4  | Tablespoons soy sauce   |
| ¾   | Cups fresh orange juice  |
| 2  | Tablespoons siracha  |
| 1   | Table spoon grated/minced ginger  |
| 1  | Tablespoon sugar  |
| 2  | Cloves garlic, minced  |
| 4  | Tablespoons canola oil  |
| 4  | Cups broccoli florets  |
| ¼  | Honey  |
| 2  | Teaspoons orange zest  |
| 1  | Tablespoon water  |
| 1  | Tablespoon cornstarch   |
| 3  | Servings of rice  |
| *optional  | 2 cups navel orange slices  |
| *optional  | Sesame seeds  |
| | |
| --- | --- |
| Step 1  | In a large Ziploc bag, add steak, 2 tablespoons of soy sauce, ¼ cup orange juice, 1 tablespoon siracha, sugar, garlic, and ginger. Shake bag to ensure ingredients are mixed and steak is coated. Refrigerate for 30-45 min.   |
| Step 2  | In a large pan, heat 2 tablespoons of canola oil over medium-high heat. Add broccoli and stir until crisp/tender; about 5-8 min. Remove from the pan and set aside for later.   |
| Step 3   | Remove the beef from the bag, and discard marinade. In pan, heat 2 tablespoon of oil over medium-high heat. Cook beef until browned; about 3-4 min. Remove beef from the pan and set aside for later.   |
| Step 4  | Stirring together, add to pan the remaining ½ cup orange juice, 2 tablespoons soy sauce, 1 tablespoon siracha, honey, and orange zest. Bring to a low boil. In a small bowl, whisk together 1 tablespoon of water and cornstarch until dissolved; stir into orange-juice mixture in the pan. Cook stirring frequently until thickened; about 2 min.  |
| Step 5   | Add broccoli and steak to pan mixture. Cook until evenly heated through. Gently stir in the orange slices if desired.  |
| Step 6  | Serve with rice, and garnish with sesame seeds if desired.  |
Dessert 
Preparation time: 10 minutes 
Cooking time: 35 minutes 
Amount of servings: 12 brownies 
Cost of all servings: approximately $10.00 - $15.00 
Exam Week Recipes, Staple Ingredients, Budget Friendly, Portable No-Heat Snack 
3 bananas 

¼ or ½ cup of cocoa powder (use less if you like a sweeter brownie) 

½ cup of almond butter 

½ teaspoon of baking soda 

1-2 handfuls of semi-sweet chocolate chips
Pre-heat your oven to 350 o C and grease 8x8 square glass baking dish 
Add your bananas into a bowl and mash until a mushy consistency, then add your almond butter into the banana mixture.  
Add all of your dry ingredients into a small bowl and mix (save chocolate chips until last). 
Combine wet and dry ingredients together in one bowl and mix together until it become a batter consistency 
Sprinkle 1-2 handfuls of semi-sweet chocolate chips into the batter and then put the batter into your 8x8 glass baking dish. Spread evenly! 
Put your dish into the oven and put on a timer for 35 minutes. When you take out your brownies, poke a toothpick into the middle of your brownies to ensure they are fully cooked. If they are, let them cool, serve, and enjoy! 
Preparation time: 10 min  
Cooking time:  
25 min for washing and steaming the rice  
20 min to cook an egg, vegetables, and grinded beef. 
Amount of servings: 
 (per one person) 
100g of carrots 
200g of spinach 
100g of mushroom 
210g of rice  
1 egg 
½ Tbsp of hot pepper paste 
Cost per one serving: $7.50 
Cooking for 1 
Meal prepping 
Budget-Friendly 
Dorm Room Cooking 
International foods 
No heat meals 
Carrots,
 
spinach, mushroom
 
rice
 
hot pepper paste
 
ground beef
 
and an egg 
Pan-fry vegetables (carrots, spinach and mushroom) and put it in a bowl. 
Pan-fry an egg and grinded beef and put it in the bowl.  
Put steamed rice into the bowl. 
Put little bit of hot pepper paste as a sauce. 
Mix well and serve. 
"Food insecurity can take many faces, and it is particularly appalling when it strikes financially vulnerable and marginalized students. We urgently need to relieve our students from this stress that seriously undermines their academic performance and hurts their physical and mental health and social wellbeing". 
In the battle against students' food insecurity, cooking matters 
by Dr. Angeliki Pantazi
Food insecurity is a problem for post-secondary students in Canada and is a barrier to student success, health, and wellness. International students are unfortunately more at risk due to higher tuition fees, limited ability to work during studies, and lack of family support. COVID-19 has profoundly affected young people, especially international students. Many are now facing an increase in racial discrimination, disruptions to their education and reduced employment options.
The quote "Give a man a fish and you feed him for a day. Teach him to fish and you feed him for life".  The Food Bank should be a stopgap, we need (to do) more. Then I began to read about Food Deserts, and to realize that the campus is one.  This has to change.
A couple of years ago we did a survey of students at the U of L and discovered to no one's surprise that a disturbing number of them were going without adequate food on a regular basis.  This confirmed what we had known anecdotally for some time...many of our students suffer from food insecurity. 
As a chaplain, I am committed to doing all that I can to ensure that our students are supported.  For many years my congregations, along with catholic churches in the area, and community groups and individuals have gathered groceries to hand out at the end of the fall and winter terms.  Now we stock the food pantries on campus and work with the Food for Thought committee to support other food initiatives.  
We know that brains need food and that they need to be able to focus on schoolwork and not worry about where the next meal will come from.  Food security is a critical post-secondary issue.
Donors
Food for Thought initiatives come to fruition with help from our donors.
Dr. Mather is currently a faculty member of the Psychology Department at the University of Lethbridge. Her areas of expertise include behaviour of cephalopod molluscs (octopuses and squid) Schizophrenia, Women in Science, and Excellence in University teaching. She is highly dedicated to providing students with meaningful education and ensuring student wellness remains high at the U of L.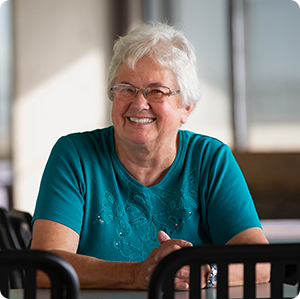 Chartwells

Thinking Ahead Giving Back (TAGB) is Chartwells' vision and commitment to being a collaborative thought partner in creating a safe, dynamic, and thriving campus community. Through TAGB, food insecurity is one of the challenges we are tackling together with our community partners.  The Food for Thought program at the U of Lethbridge is an excellent example of this.
Not only does this program assist with actual food insecurity but it also gives students a learning opportunity in this discipline. Chartwells is pleased to be able to support The Food For Thought program through Agility and eagerly anticipate the initiatives that the students pursue each year.
---