Abbondànza
17th Annual Abbondànza
Saturday, January 27, 6 pm
Galt Museum & Archives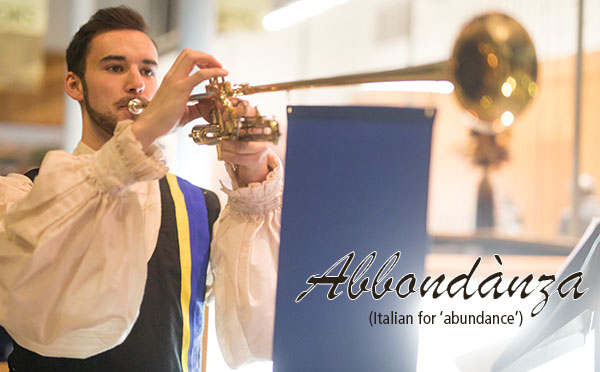 Join the Faculty of Fine Arts during an entertaining evening filled with original art, exciting performances, a gourmet Italian-inspired meal, fun and frivolity. Enjoy the talents of art, drama, music and new media students while helping raise money for student scholarships.
Support the Abbondànza Endowment Fund
Since its inception, the Abbondànza Scholarship Endowment has awarded 104 scholarships to deserving senior students in Art, Drama, Music, New Media and Multidisciplinary programs. The ever-growing endowment allows the Faculty of Fine Arts to provide a minimum of nine $3,000 undergraduate scholarships each year, making the Abbondànza Scholarships one of the largest awards provided to University of Lethbridge Fine Arts students.
Thanks to generous donors supporting Abbondànza annually, the endowment is now able to support Master of Fine Arts and Master of Music students with four $4,500 scholarships. Since 2015, 11 hardworking graduate students have been able to continue pursuing their passions. 
"I can't express how grateful I am to have had this amazing opportunity given to me. Because of your help I have a 3.75 grade point average and I couldn't have done it without you. My academic success during 2016 is directly related to you. It was your decision to provide me with this most substantial financial backing and from the bottom of my heart, thank you for everything."

Kathryn Abbott, New Media
2016-2017 Scholarship Recipient
With all donations going directly into the endowment fund, the first dollar we received -- along with every dollar since -- is still working to support students. Join us at the 17th anniversary Abbondànza extravaganza and support undergraduate and graduate Fine Arts students as they work hard to achieve their educational goals.
2018 Abbondanza Sponsorship Opportunities 
Contact Kelly Morris to get involved! 403-329-2227 or finearts@uleth.ca
Thank You to Our 2018 Abbondànza Supporters
Major Sponsors
Val Matteotti Ranches Ltd.
Glenn & Janice Varzari
Andy & Linda Hakin
Lethbridge Herald
Course Sponsors
Antipasto              Art & Mary Jane Crooks
Primi                      FWBA Architects
Secondi                 Fee Simple Law LLP
Dolce                     Mike & Maureen Mahon
Espresso               Erasmus Okine & Christine Murray
Performer & Volunteer Sponsor
Alexander Whitehead Executive Search
Wine Sponsors
Andrew Hilton Wine & Spirits
Kate Langston
Kurt Schlachter & Jason VandenHoek
Entertainment Sponsors
Ed Jurkowski & Colleen Bakker
Harry & Irene Penner
Dennis Neufeldt & Helen Henderson
Kelly Philipp & Karen Robertson
Piano Sponsor
Clarity Law
Lethbridge Vehicle Licensing & Registry
Silent Auction Sponsors
Estate of Carl Granzow
Olive Green
Foster & Sons Jewellers
Friends of Fine Arts
Anonymous