Digital Audio Arts
Bachelor of Music - Digital Audio Arts
Combine academic courses with experiences in audio engineering, music production, and sonic arts. Building on a classical music base, Digital Audio Arts is a professional degree that leads to a broadening of research skills in production, performance, and technology. You develop strong practical skills and study audio-related techniques and concepts.
Our facilities include: Studio One, a world class recording studio. A 5.1 surround-sound Audio Research Lab, three film composition suites, and 36-workstation instructional computer lab.
Collaborative opportunities with art, drama and new media as well as with numerous disciplines across campus provide real-world research experiences. Your education is enhanced with lectures from leading industry specialists.
Explore a variety of topics including:
Audio engineering and production

Audio for gaming

Composition for film and media

Software design and development

Interactive computer performance

Computer assisted composition

Audio research

Portfolio development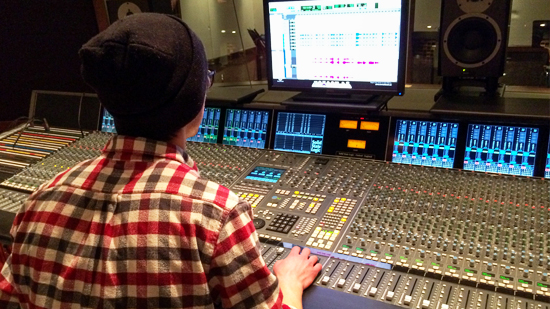 Areas of Concentration
• Electro-acoustic composition
• Composition for film & video
• Audio engineering
• Production
• Integrated and collaborative media
• Technology in education
• Research in audio spatialization and computational models
Ensemble Opportunities
Collaborative Piano/Guitar
Global Drums Percussions Ensemble
Integra Contemporary & Electroacoustic Ensemble
Jazz Ensemble and jazz combos
Lethbridge Symphony Orchestra
Opera Workshop
University Singers
University Wind Orchestra
Women's Chorus

 

"I came to the U of L because it offers a unique program in digital audio arts, which combines theoretical, creative and technical aspects. I found lots of other opportunities including the Shure competition, Joyce and Ron Sakamoto Award, internships, and extracurricular opportunities that furthered my education in a practical environment. We also conducted original research, where we independently explored and applied principles in a creative and technical environment."

- Shae Brossard
Post-Diploma
More info: uleth.ca/finearts/advising
Application Info
Info about Faculty of Fine Arts admissions requirements: Apply to uLethbridge
Program Planning Guides
To help you plan, program planning guides outline the required courses for your specific degree and major, and provide a sample sequence of courses. Bachelor of Music - Digital Audio Arts
Student Success Stories